You may have gathered by now that we at Night Tracks quite like dark music, and today's feature is all about one of the darkest around, FOG. Read about the man behind the music, and bag a special treat, a free download of a dreamy, ethereal and surprisingly light tune called "Care For You"....
NT: Hey man, can you give us an introduction to FOG?
F: Umm, well, I'm just a dude that writes beats on my computer really. FOG was originally a doom band a friend of mine and I were starting and we only got as far as making a Soundcloud. Since then I started to upload beats and stuff I'd been making and it kinda changed into something else and people started taking an interest...
NT: How long have you been producing? What are your biggest influences, musically or otherwise? Does your environment ever affect your music? Your tunes always seem ultra dark....
F: Well, I've only really started taking an interest in writing beats since like November, but I guess I've been dabbling on various DAW's since May or something when the band I played in broke up and stopped touring.
Musically my influence's are probably like a bunch of UK garage/house artists, Nirvana, Burial (obviously) and also a bunch of black metal/hardcore bands a lot of stuff..
London's a really influential place, I'm not sure I could live around here and not take inspiration in some form whether its the hazy late nights and early mornings, watching the world wake up as I'm ready to sleep or the weather, buildings and people that surround me. It all adds up. Distance has been a big thing for me recently too, emotions, sometimes not feeling wanted or feeling like I've let myself down. I guess this all puts me where I am with what I write.
NT: Tell us a little about the 'HVRT KRV'...
F: Basically, It's Retral, Sangam, Cholombian and myself. There's a lot of things we're planning on doing with each other, Sangam and Retral's forthcoming EP is one of the most brilliant things I've heard in a while. Expect more from all of us collectively.
NT: Carrying on from that, you've also (very impressively) collaborated with EPLP recently. How did that come about?
F: Ha, thanks, I guess we're just two dudes that like each others' music and thought it would be cool to work together, I've really dug his stuff for a while so when he asked me if I was down to do something with him I obviously jumped at the chance. He's definitely one to watch and I'm really excited to put the finished product out.
NT: What plans do you have for FOG? Any releases lined up? Do you ever play out or play live sets?
F:
I'm not sure really, I recently
released an EP on Retrospekt Records
, but since writing those songs I think I've progressed and started taking this a bit more seriously than just spending an hour or two writing a beat.
The stuff I've started writing I feel is a bit more solid and I'm thinking more about everything musically and structurally rather than just the melody and vocal hook that puts me in my personal space. Apart from HVRT KRV releases, my EPs with Retral and EPLP and also collabs with a few other guys and some remixes, I don't actually have anything planned, maybe I'll start working towards something when I feel inspired enough. I played at the HVRT KRV showcase in Southampton last Friday which was really cool, I don't normally like DJing and I've not really thought about putting together a live set, but who knows what might happen when I'm at a point I'm 100% happy with what I'm doing.
NT: You've very kindly chosen to give away a free tune, 'Care For You', which, on the contrary to what I've asked throughout the interview, is one of your "lighter" tunes, in my opinion. Can you give us a few words on that?
F: Yeah, I guess its a little less like you're aimlessly wondering through an endless sea of fog which honestly is what I do normally go for, I like that feeling of dispair and loneliness I sometimes get from my songs, as I said earlier I think I'm thinking about things a bit more and working things out rather than going with that one vibe, I don't know, I guess I was just happy and wanted to express how much I care about various things and let out good vibes I have inside.
NT: And finally, if you had to pick your three favourite 'Night Tracks', what would they be?
I think they've all got me through a few 'moments' I've encountered.
NT: Thank you for your time dude, and thank you for the free tune, which you can grab by clicking here or on the artwork below.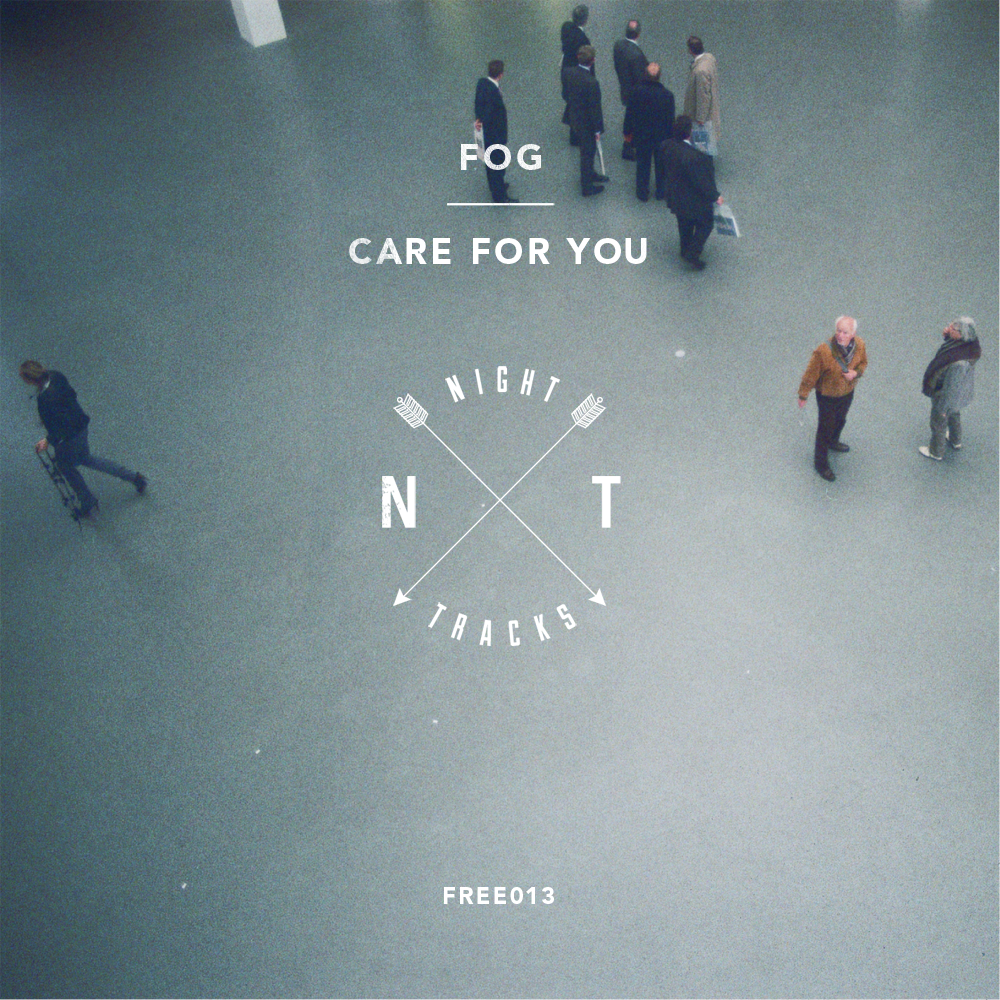 (FREE013) FOG - Care For You
Photography: L. McArthur
Design: T. Kelle