Dudes, have you ever wondered what your collection of Garage Nation tape packs would sound like ten years later, only after the apocalypse and inevitable nuclear winter? Look no further than
Broken Bubble
's seventeenth release by Australian producer,
Mirror State
.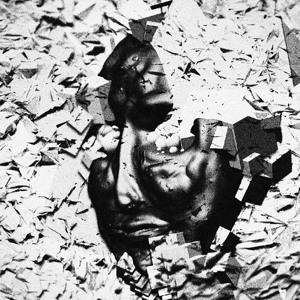 To put it succinctly, this is the darkest release I've heard so far this year, and I am not in short supply of dark garage, I can tell you. Big up to Broken Bubble for nailing Mirror State down for an EP, because there isn't nearly enough of his stuff available as there needs to be. This is pure garage at its most deconstructed. Stripped down to its bare skeleton on an almost industrial level, with pulses of light that occasionally break the darkness, with only ghostly cold, sparse vocals to remind you of the human element.
Title track, 'Extension' is the perfect opener, preparing you for what you're about to receive in full, traveling through the wasteland until it all breaks down when you get to 'At Least I Noticed', degrading into almost shoegaze levels of fuzz and static.
'Done With This Call' drops back in to finish, before a couple of remixes which have become a bit of a trademark way of finishing off for Broken Bubble. Firstly,
Second Line
turns 'The Bridge' into a deep-kicking slab of techno that retains the apocalyptic vibe, whilst BB stalwart
Macka
puts together an acidic, percussion-crazy take on 'Distracted'.
For all those that proclaim Burial's tunes to be the ghost of UK-bred tunes of the past, check out this EP when it comes out, you might realise how wrong you've been!
_______