It's been a long time overdue for a record label to finally take the plunge and put out some music from the Montreal-based duo, Sipp & Steamgoat, and I'm not surprised that label is Broken Bubble, fast becoming a home for forward-thinking music that strives to stand out as unique.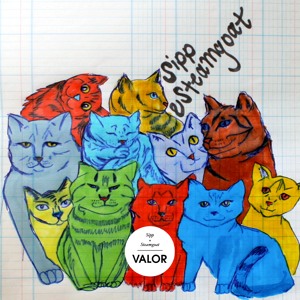 "Unique" is not a word I find myself using rarely when listening to the music produced by these guys, and when you buy this release (which you will), you'll see why. It is, in my opinion obviously, the greatest showcase of their work that there is.
Opener "COUSCOUS" really sets the tone for the EP, and is so loosely held together you get the feeling it might break down at any moment in total collapse. It's nice to hear something recent that's so loose and laid back that doesn't feel like the latest take on L.A.-style "beats" music, and it flow's perfectly into the next track, "In Between", a piece that feels almost like it could fit into the "Modern Classical" bracket, until Sipp & Steamgoat up the intensity on the drums (I noticed that I was actually leaning in towards the computer during this tune) before taking it all away with a few seconds of calypso. Next up is the ethereal "Doorstep", which benefits from the vocals of
Graciellita
(who couldn't do anything that sounds like what anybody else is making if she tried). "Real Estate" highlights the amazing vocal work on this release. Where other producers might let the samples run on, Sipp & Steamgoat cut them frantically, stopping them short of delivering their full message. "Shelf Life", the most overtly "Night Tracks" tune on the release, calls an end to the original works, but don't be disheartened.
Broken Bubble have really pulled out a series of remixers on this one.
Prof. Logik
adds some bounce to "COUSCOUS",
Kwala
completely deconstructs "In Between", label-head
Cogidubnus
manages to summon a ghost of "Real Estate", while
Mirror State
puts some distance between you and "In Between", and
Sina
brings things to an epic finish with his take on "Real Estate".
Props have got to go to Cogi for putting out this piece. Every release from Broken Bubble makes me wonder how they're going to top the last, or keep putting out fresh, new sounds, but they haven't failed yet.
_______